Kanye West raises $1M for DMX's family, designs memorial stage; Sunday Service Choir performs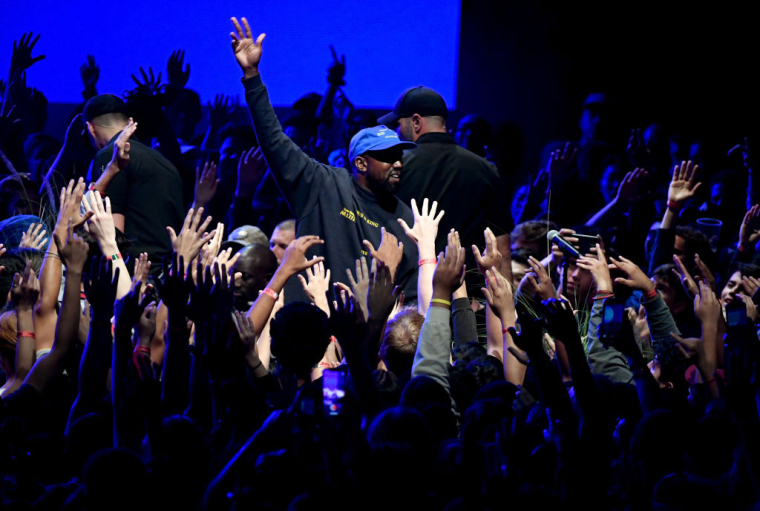 Kanye West reemerged in the media last weekend for something other than his very public divorce by helping raise over $1 million to help out the family of fellow rapper and Christian brother DMX. 
The money was raised after West commissioned a charity shirt designed by Balenciaga for Yeezy in remembrance of the late emcee whose birth name was Earl Simmons.
A photo shows the shirt adorned with white crosses on both sides. And the back features the text, "In Loving Memory."
"Balenciaga has been asked by Yeezy to design a T-shirt in tribute to the late artist Earl Simmons, aka DMX," an Instagram post read.
A link to the shirt shows that it is sold out. The price of the shirt is listed at a hefty $200.
TMZ reported that all the proceeds from shirt sales was given to DMX's family, as Balenciaga noted would happen.
In addition to the charitable tribute shirt, West is also reportedly responsible for putting together a one-of-a-kind stage design set up at the Barclays Center in Brooklyn on Saturday for an all-star memorial held for the late entertainer.
Fans at the public ceremony heard tributes from many of DMX's 15 children. The "Slippin" rapper was laid in a red casket with the word "FAITH" largely written in black letters.
Those eulogizing DMX stood atop a massive half-pyramid stage with an inverted pyramid towered over them. Each side of the stage projected photos of the passionate artist.
West's Sunday Service Choir was listed among the acts that performed at the memorial.
A private ceremony honoring DMX's life was held for just a few hundred people at Christian Cultural Center in Brooklyn, which A.R. Bernard pastors. 
"I discovered that Earl 'DMX' Simmons had a gift," Bernard said to those in attendance, according to The New York Post. "And I don't say that lightly. I saw videos where thousands of people — white folks — cheering and screaming at this man. And it was something special. He had a gift."
That service also included a litany of official honors. 
The New York State Senate even declared DMX's birthday — Dec. 18 — "Earl 'DMX' Simmons Day." Additional speeches came from Gov. Andrew Cuomo and Mayor Mike Spano of Yonkers, his hometown.
"DMX is who he was and who he is, and the reason he has affected the people in the hip-hop genre and human beings across the globe is because he was genuine," controversial religious leader Louis Farrakhan added in a video message.
DMX died earlier this month at White Plains Hospital in New York. He was 50 years old.
The native of Baltimore, Maryland grew up in Yonkers. And despite his troubled childhood, he went on to have a successful career in hip-hop music spanning over two decades. 
The mainstream rapper never shied away from sharing his Christian faith despite his sometimes vulgar music. Throughout his career, he recorded several songs talking about his faith, including "Lord Give Me a Sign."
The hip-hop recording artist has had many public mishaps, from a drug overdose to various arrests. But in a recent sermonette he shared online, he said tragedy is what has brought him closer to God.
DMX spent the past few years sharing the Gospel on his mainstream platforms while trying to stay sober. In April 2020, he led thousands of his followers in a Bible study in hopes of calming the anxiety brought on by the COVID-19 pandemic and lockdowns. 
DMX had openly said in the past that he wanted to become a pastor. In a video posted on Facebook in 2016, he stated that his dream of becoming a minister was slowly becoming a reality. 
He is survived by 15 children. He died with his family by his side.